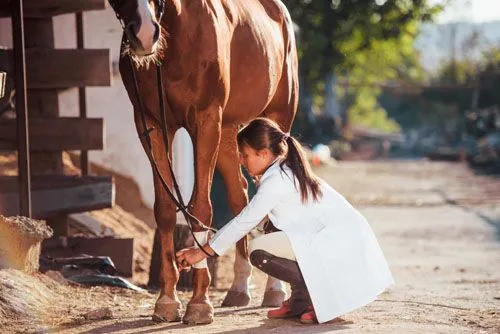 Lameness and limping in horses can be a sign of a severe problem and stressful for you as an owner. Getting to the bottom of the problem as quickly as possible means you can return your horse to the best health. Instead of searching for the "best horse vets near me," give Backstretch Veterinary a call. Our veterinarian in Groveland, MA, is equipped with the latest diagnostic equipment and has decades of experience diagnosing lameness and limping issues.
Various Causes of Lameness in Horses
Lameness in horses can originate anywhere from the shoulder to the hoof and between. Some causes include arthritis in the shoulder, a sprained tendon in the lower leg, an abscess in the hoof, or a sore ligament. However, you can't let your horse limp for too long, because the issue can worsen or linger, resolve incorrectly, and return without a visit from the horse vet.
Treatment for Lameness and Limping
Sometimes you can find the source of the lameness on your own with manual palpation of the leg or searching for heat in the hoof. Finding lameness in horses can be difficult because the cause can be vague. When searching for a "veterinarian near me" to find the best horse vets near you, you'll want a vet with the latest diagnostic tools for lameness detection.
A horse's body undergoes wear and tear like any other animal. Some horses live with little problems, while others seem as fragile as tissue paper. Our horse vet understands the physical strains that performance or leisure horse experiences. We can apply our expertise and medical knowledge to the problem and find the cause.
Our vet will use the appropriate diagnostic tool to uncover the cause of the lameness. That includes using ultrasound if necessary, manual palpitation, and hoof testers to find an abscess and look for unusual lesions. Once the cause has been discovered, our horse vet prescribes the best course of treatment. Additionally, we will go over how to handle the issue with you.
Call Our Veterinarian in Groveland, MA
Instead of searching for the "best horse vets near me" or "horse treatment near me," call us at Backstretch Veterinary today for an appointment. Our horse vet can come to your barn and perform an on-site exam to uncover the cause of your horse's lameness and prescribe a treatment plan. Contact our office today at (978) 891-5780 to schedule an appointment.